Tbs8510 is a transcoding server that supports real-time streaming input and multi-channel and multi format. It is used to convert streaming media files from source format to high-quality streaming and send them to the equipment specified by the user. It is also allowed to convert the stream to MPEG-4 or h.264/h.265 format.
Tbs8510 can input multimedia streams from different sources, such as DVBS / S2, dvbt / T2, DVBc, ATSC, isdbt, DTMB, HDMI and ASI. After the input content is processed by the transcoding server, it can produce output in different formats, which is suitable for different application requirements. Such as IPTV, video on demand (VOD), video compression and archiving, post production and processing, etc.
Version 1: it supports the installation of 2 TBS TV cards (up to 16 channel frequency point input) to receive DVB signals, and supports transcoding up to 30 HD channels or 80 SD channels.
Version 2: it does not support the installation of TBS data acquisition card. All signal sources come from IP. It supports the conversion of up to 40 HD channels or 100 SD channels.
Product application:
Ott IPTV provider (Internet TV)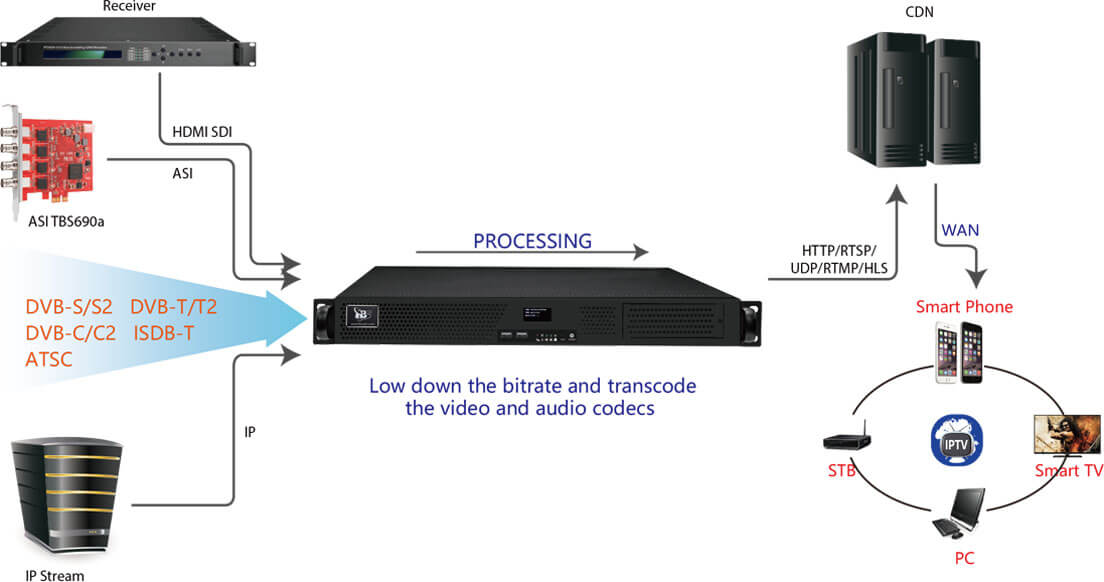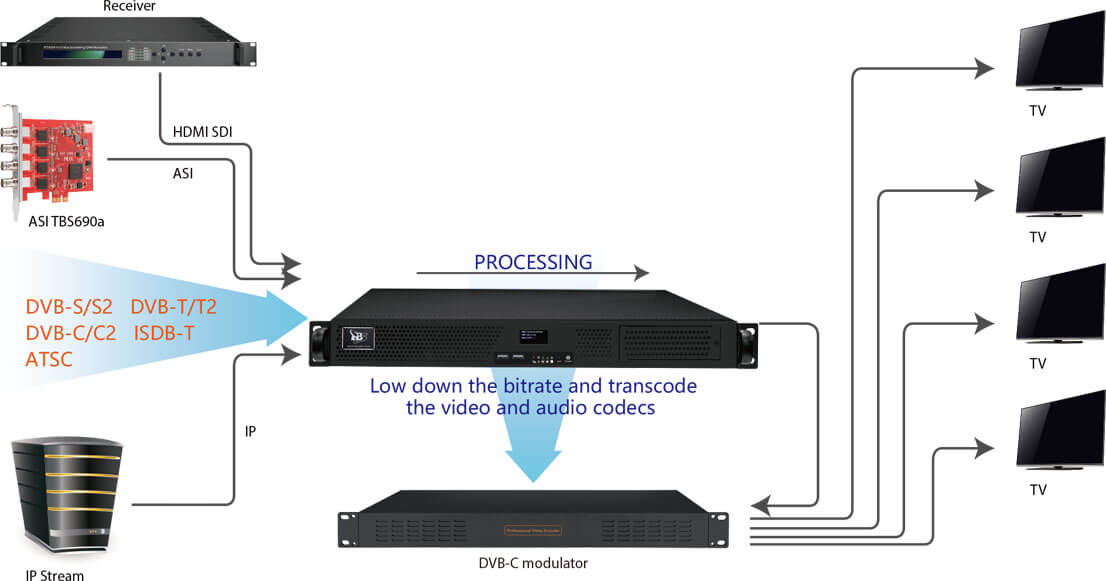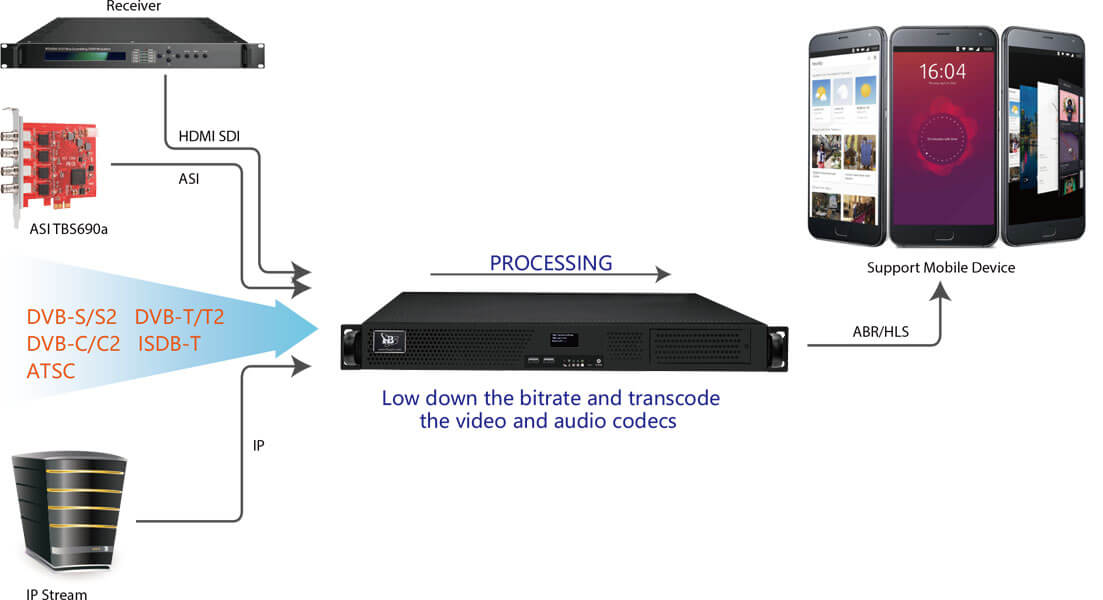 Product features:
Support multiple inputs: DVB / S2 / S / T2 / T / C, ISDB-T, HDMI, ASI or IP.
Support hevc / h.265 transcoding.
Multiple encoding, protocol, resolution, profile of each channel.
GBE IP output: UDP, RTMP, pull / push HTTP, HTTP, live smooth (HLS), FTP m3u8 playlist file.
Flexible GOP structure.
The frame rate can be converted down and up.
High quality preprocessing, including filtering, de interlacing, cross scaling and image insertion.
Support variable bit rate (VBR) coding to maximize adaptive streaming video quality and bandwidth efficiency.
Based on embedded CentOS 7 Linux system.
Support setting mpeg-ts service provider and service name.
Support closed captions through EIA-608.
Support transcoding all audio tracks and maintaining all subtitles.
DVB subtitle and logo insertion.
Parameter template setting and import.
Easy to configure through Web UI.
Design safe 24 * 365 operation.
Interface
2xRJ45, 1000M Base-T2


2xPCI-E slot
DDR
Version 1
16G


Version 2
32G
input
Input signal
DVBS/S2, DVBT/T2, DVBC, ATSC, ISDBT, DTMB, HDMI, ASI
Input net flow
UDP, RTP, HTTP, HLS, RTSP, Media Files, RTMP
video coding
MPEG-2, AVC/ H.264, HEVC / H.265
分辨率
1920x1080P, 1920x1080i, 1280x720P, 1024×576, 720x576i, 720x480i, 480×576, 544×576, 640×576, 704×576
Audio coding
AAC, MP2, MP3, AC-3
output
type of output
UDP, RTMP, HTTP, HLS(ABR)
video coding
AVC/ H.264, HEVC / H.265
resolving power
1920x1080P, 1920x1080i, 1280x720P, 1024×576, 720x576i, 720x480i, 480×576, 544×576, 640×576, 704×576
Audio coding
AAC, MP3
rate control
CBR VBR
transcoding
Version 1:up to 80 SD/30 HD 1080 AVC(h.264) streams
up to 60 SD/28 HD 1080 HEVC(h.265) streams Version 2:up to 100 SD/40 HD 1080 AVC(h.264) streams
up to 80 SD/36 HD 1080 HEVC(h.265) streams
power waste
少于200W
size
592mm * 438mm * 53mm
Gross weight
22kg